Archive for the 'Misc' Category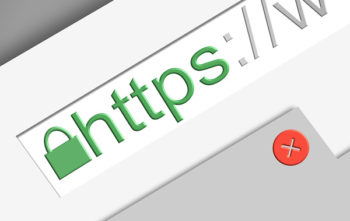 A rare blog post and an extremely niche one. Have you ever tried to create a SSL private key file (PFX) from text certificates? I have and it's taken me a long long time to figure out how to do it. As I couldn't find any site with simple instructions on how to do it I thought I'd write it down. I now know this will be here next time I need to do it when I've completely forgotten.
Using Microsoft Azure is great for hosting sites but comes with little in the way of support unless you pay for it. That's fair enough, it is aimed at much more qualified people than me. I needed to attach some SSL certificates to some sites and realised that Azure requires you to upload a PFX file containing the certificate. I bought my first certificate direct from Comodo, that cost £300 for three years, which is quite a lot money. Comodo supplied the certificate as a .crt file. That's not accepted by Azure either but downloading Digicert Certificate Utility provides a really easy way to export as a PFX file.
For hosting a lot of my sites I use Dreamhost who provide Comodo verified SSL certificates for $15 per year. I honestly don't know what the widely different prices in SSL certificates are about but I assume a Comodo verified certificate is trustworthy. Dreamhost certificates are fine if you are hosting a site on Dreamhost, it just applies the certificate to the domain. It's less useful if you are just hosting the DNS with them. They provide the certificate and private key in text format.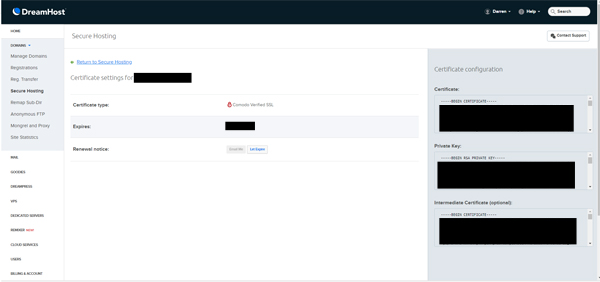 Given the $15 per year price I've been trying to figure out how to turn the text file into a PFX file. It's taken a while to figure it out and I couldn't find one site to tell me how to do it.
Step One – Create a TXT File
The first step is copying and pasting the text from the certificate and key into one file. The format for this is:-
—–BEGIN RSA PRIVATE KEY—–
(Private key text)
—–END RSA PRIVATE KEY—–
—–BEGIN CERTIFICATE—–
(Certificate text)
—–END CERTIFICATE—–
—–BEGIN CERTIFICATE—–
(Intermediate certificate text)
—–END CERTIFICATE—–
Save this file as your.domain_pem.txt
Step Two – Convert the TXT file
We are aiming to turn the TXT file into a format that Digicert can import and then export again as a PFX file. To convert the file you need to use OpenSSL.
Once you have OpenSSL installed you will need to run it from the command-line (I did all of this on a Windows machine). The first problem I encountered was not changing the command-line directory to the directory I'd installed OpenSSL in. Consequently, it didn't recognise OpenSSL as a valid command. Once I'd navigated to the right directory I was away.
The command line instruction is:-
openssl pkcs12 -export -inkey your-domain_pem.txt -in your-domain_pem.txt -out your-domain_key.p12
A thing to note is that you do need the full path to your-domain_pem.txt or it won't know where to find it. Honestly, I cheated and copied the file into the same directory as openssl.exe as I'm lazy. Running this command will, first of all, ask you for a password (input twice to verify) and then it will create a file called your-domain_key.p12.
This is all you need to create your exportable certificate.
Step Three – Create a PFX
To create a PFX file you need to open up Digicert and import your-domain_key.p12. As part of the import process, it will ask you for the password you created as part of Step Two. Once it is listed as one of your SSL certificates you can press "Export Certificate".
When you export the certificate it will ask you to input the password twice.
Step Four – Use your certificate
You can easily add the newly created PFX file to Azure as a private key. It will ask you to input the password again as part of the upload process. You can then bind the certificate to the domain.
That's it. I'll be back here to read this once I forget how to do it.
Posted in Misc | Comments (0)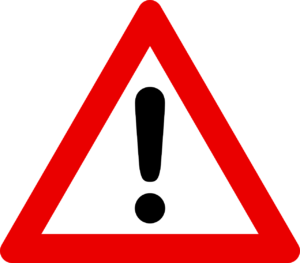 This  is more related to business than the usual vague music and culture thing I'd blog about but I'm wary about putting it on my business site because….. well you never know. It's nice to see that Birmingham appears to have achieved something in having one of the greatest increases in business start ups in the country. It's always tricky to figure out whether these accolades are real or something the City has paid for purely for publicity. I'm happy to accept it on face value, after all, being the largest municipal area in terms of population then you would expect it have high levels of business start ups.
This is a warning to those people in that start up phase. At some point in your business development you will begin to engage with networks made up of other people in similar positions and a range of "business support organisations". Many of these people purporting to provide business support are public sector organisations that will claim they can support you to find the right people in the public sector, or at the very least pass on their experience.
The public sector can be a confusing mess to people that haven't been indoctrinated in the peculiar procurement rules that are often attached to contract opportunities. Help and support to navigate unfamiliar organisations is obviously welcome. Unfortunately these offers are frequently not what they seem.
Many of  the organisations providing this help and support are contracted via the European Regional Development fund who will reimburse them for the time they spend with you. The usual model for this is that you get invited to a lengthy presentation where vague allusions are provided to the level of support you can obtain. You will then be invited to a meeting where you can explain what you do. At that point you will be asked to sign a form agreeing that you've been given a certain level of support. Usually this is calculated on the length of the presentation and the meeting. On some occasions I've seen just a couple of meetings calculated at over £1000 worth of support.
Most SMEs are quite happy to sign this, on the face of it there is no loss to them. The support organisation can then claim the money for support back from the EU. Usually that's the last help and support you will receive. You might get an email every  now and then trying to sell you training but nothing particularly tangible. In subsequent years you might be asked to go through the whole process again.
You might ask why this is a problem. It doesn't cost the businesses much other than their time. You might actually benefit from the networking opportunities. What many businesses don't realise is that there is a cap on how much funding you can get from the EU for these sort of things. If your business reaches its cap, signing it away to "business support organisations", then it will not be able to apply for proper support that might be available in the future.
So, if you run an SME and get invited to one of these events; make sure you are fully aware of what you end up signing at the end of the meeting. It might be a nice little earner for the organisations apparently  providing support but it could have consequences for your business.
Posted in Birmingham, Misc | Comments (2)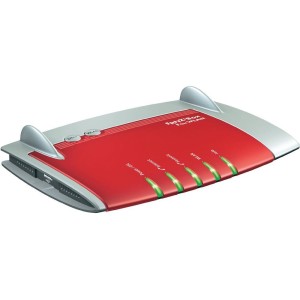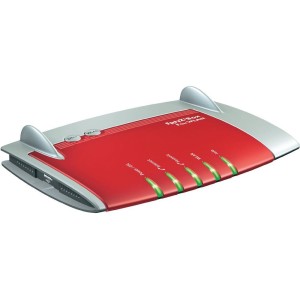 I'm writing this because I've got a Fritz!Box 7390, it's a great modem but it's a painful process to set it up. Every time I come to do it I end up spending ages searching forums and cobbling together a solution. It occurred to me that if I write it down here then I'll know where it is and it might help some one else.
I've recently moved from Sky Broadband to Plusnet, although Sky had been charging me a fortune I was dubious about moving as it had never failed and getting my Fritz!Box to work had been a long and drawn out process. Eventually I was talked into reducing my bills and moving to a slightly less morally dodgy company.
When the bloke turned up to install my Plusnet fibre he ended up screwing a modem to our wall and giving us the flimsiest Plusnet router. I was told that my Fritz!Box 7390 wouldn't work with Plusnet so I'd have to put up with their router. Their router is terrible. It couldn't handle the number of devices in our house  (there are usually about 15 devices connected to the network).
Today I decided to get my old 7390 back as my router and did eventually get it working.
The first thing I hadn't realised is that the 7390 will work very happily as the modem connected to Plusnet Fibre.  Just connect the cable coming from the wall into the 7390 DSL socket.
The IP address to open the control panel is, 169.254.1.1
In the control panel make sure you are in the advanced view and select Internet and then Account Information.
Under Connection select – Connecting to a DSL line
Under Account Information select – Yes, enter  xxxxx@plusdsl.net (with the xxx's replaced by the email address Plusnet allocated you) as your username and your broadband password.
Select change connection settings and select the following:-
Maintain permanently should be set to yes.
VLAN ID should be 101
DSL ATM settings should be selected manually with VPI = 1 and VCI = 32
Finally encapsulation should be selected as PPPoE.
Select apply settings and that should work. Hopefully this will still be here next time I have to do it.
Posted in Misc | Comments (1)
I've been meaning to write this for a while but through the pressures of reviewing cats and entertaining people with the ukulele (entertaining in its loosest sense) I didn't get round to it.
It seems that I've developed a new hobby, I didn't expect to, and it's only after doing it for about a year that I found out it had a name. Apparently I'm heavily involved in competitive film watching. I like it, now lying about, watching old film seems like it has a real purpose rather than…. lying about, watching old films.
Last year I completed a Facebook list thing called the Empire 500 greatest films. You know the sort of thing, you tick how many films you've seen and it compares it with your friends. This is a list that Empire Magazine put together in 2008 and, funnily enough, includes, what they consider to be the 500 greatest films. For the obvious reason this doesn't include any films after 2008.
I ticked all the films I'd seen and came to 368 (I think, I wish I'd made a note of this now) out of 500 films. I was quite proud of that but was slightly miffed to see I was a bit behind Steve Coxon who'd got 382. It occurred to me that I'd only have to sit down and watch 132 films and I would have seen all of them, so I did.
Having something like Lovefilm certainly made this easier. I sat down and added as many of the films that I hadn't seen as possible and then waited for them to turn up. I admit that towards the end I had to resort to a combination of expensive Ebay auctions and some piracy to get to see all of them.
One of the first things I'd learned was that the previous 300 odd films were there because I chose to watch them. Watching films based on an arbitrary list, from an arbitrary snapshot in time can be very hard work. In many cases I spent most of the film trying to workout whether it would have still made it onto the list if it had been collated in 2010.
Overall it is fair to say I saw some appalling films. I've learnt to hate 1960's Italian cinema with a passion. I shudder when I think of anything that Ingmar Bergman was involved with. I took small pleasure in finding out my claim that Woody Allen's career is a simple facade to cover the acts of a sexual predator was actually correct.
I did discover some things that I wasn't expecting. I like Charlie Chaplin films. I like quite a few silent films as it turns out. The four hour epics, Greed and Napoleon filled me with dread but turned out, in their own way, to be quite entertaining.
One of the things I've been frequently asked as I've ploughed through the films I hadn't seen is "which one has been the best?" I've found this really hard to answer, mainly because I'm being asked about my favourite film from a subset of a wider list that includes many of my favourite films. The fact that I'd never previously seen those 132 films was entirely random.
Having said that a few did really stick with me, Before Sunset and The Mother and the Whore being surprises as they are largely about French people talking at great length. There were also things like Requiem for a Dream and Almost Famous which were great films I'd just never heard of. If I have to pick one (which I don't)  then my favourite would be High and Low, one of the best police films I've ever seen.
Overall working my way through this list did teach me something about film. I think I've got more of a sense of what makes a good story and how my preconceptions are not always right. I've learnt to watch films without knowing anything about them and actually relish the prospect of being surprised.
It also taught me that you better have a very good reason if you're going to make your film longer than two hours.
Once I'd finished I was surprised to realise that I still had an appetite for seeing more. Fortunately James Cook pointed me towards Framerater which helps you to lump similar lists together and keep track of what you've seen AND has a leader board. This is the most important thing.
So I had a break, watched films with spaceships and Ninjas (separate films) and now I'm trying to complete the IMDB Top 250 of which  I have 33 to go. It's not quite clear why Empire and IMDB have such different lists.
It took me almost a year to work my way through these but more importantly it gave me something to really bore people with.
Posted in Misc | Comments (5)
It seems that once a year I have a bit of a go at working out what LinkedIn is for. I joined it years ago and I think it is fair to say that I've not mananged to achieve anything through being a member of it.
I can see a great deal of potential in having a social network that has a professional focus, but I'm not convinced LinkedIn is that platform. I have a lot of things to say that probably aren't appropriate to my personal blog.
This has got to be down to one of two reasons. It is either because I'm doing it wrong or it is because it doesn't work. Hopefully it is the first one.
I'd really like other people to tell me how they use LinkedIn and how I can try and get something out of it. I think it is telling that I'm asking this here rather than on LinkedIn itself as I'm not convinced of its reach.
I think I've got a fairly good handle on how social networks work. I use Twitter as my primary form of communication and have found that professionally it's a useful tool for joining people together. I even have an attachment to Facebook, at least as a place for quickly storing links and keeping an eye on people that don't use Twitter.
The critical success factor for networks, from my point of view, is whether they are carrying sufficient content and interest for me to invest my time in. My typical experience of LinkedIn content is people that have connected their Twitter account to their status or it is truly speculative employment agencies spamming inappropriate jobs.
This has made me wonder what everyone else expects to get out of it as I can't see too many examples of conversation (obviously this could be peculiar to the way I use it).
Cynically I can see LinkedIn use falls into one of two categories, a naive hope that someone will be knocked over by your profile and have to bring you into their organisation or a voyeuristic interest in whether people you used to work with have still got jobs.
In their own way both of these are valid but they do not perform the function of a network. In reality this prompts people to treat LinkedIn as not much more than a grown up version of Pokemon.
I've always had a few self created rules about how I've treated different social networks. On Twitter I follow anyone that is interesting, I'm only Facebook friends with people I've met, Google Plus I add anyone but only to specific circles and LinkedIn only people who I have worked with.
I think I'm going to change my approach on Linkedin to include people who seem interesting to see if a similar approach, as I use with Twitter, makes it anymore functional.
There you go, I'm really interested in your tips or experience. I suspect that many responses are just going to be a mutual confusion but hope this isn't the case.
Posted in Misc | Comments (10)
If you've answered no to both of those questions then I think I can safely say that you don't work in a health related sector and you don't have a long term health condition. Ok, that's a generalisation but it's probably a reasonable one.
The problem with health, and health related matters, is that, generally, people don't give a toss unless they're paid to, or they have no choice. People care about the NHS but they care about it is a structure rather than the concepts that underlie it. Most of the activism around health, by the healthy population, purely relates to the opening and closure of hospitals. That's fair enough, the visible structures are by their very nature visible.
Of the two categories I am firmly in the former. My knee has started hurting a bit recently but overall I care about conceptual health because I'm paid to.
The lack of a wider understanding of the impact of health is a shame. The health of a nation is relatively easy to measure and is a very good proxy for the wider conditions people live in. We can understand a lot about a population from how long they live.
Unfortunately it isn't a subject that instantly grabs people. There aren't many laughs in health inequalities. A constant diet of dead babies, fags and chips has a habit of putting people off.
I instinctively think this should be a systematic test of whether marmosets like Marmite or not. I reckon they probably don't.
Our current Government seem to be going with the Marmot Review, which is no bad thing.
Through the wonders of the Internet Sir Michael Marmot's talk got captured for the world to see. This is where I finally get round to the point.
You should watch this video. I know I'm asking you to watch a half hour video of a man in a suit talking about death. The difference is that this is fairly entertaining, it will certainly give you an insight into how health impacts on the wider population. There is at least one laugh in there and he does get very angry (though only for a second).
Putting Local Communities at the Heart of Public Health – Professor Sir Michael Marmot from Solihull NHS Care Trust on Vimeo.
Posted in Misc, Politics | Comments (1)
It's not often that someone comes up with an idea that will revolutionise the very core of telecommunications.
Strangely I have just done exactly that. Rather than keep my idea a secret I thought it would be useful to write it down here. Many people would think this is an odd thing to do. After all if it is so good won't I make a fortune?
The problem is that my overwhelming apathy means that the odds of me even remembering this let alone finishing it is slim.
So what is this idea?
It came to me when someone recently called me. New phones obviously tell you who is calling. That's all very well but sometimes you need just a little bit more information.
My idea is that before you accept a call the caller must provide additional extra information.
For example many people call me at work with questions. I'd like to be able to pick the phone up knowing how many questions I need to answer. That way we avoid conversation drift.
Equally it would be really handy to have a ball park figure for how long they estimate the call will take. How often have you embarked on what you think is a brief chat only to be still talking as much as fifteen minutes later?
In an ideal world a written outline of the all topics to be covered would be handy but that's essentially just an email. Someone has already invented email.
The only thing I haven't figured out is which letter needs to go in front of the word phone and what colour it would be.
That's my plan and it could well change the world.
Posted in Misc | Comments (2)
I've decided to give Google an absolutely free marketing strategy which could play a key role getting them finally accepted as the premier supplier of information services. Though rather than telling them directly I thought I'd put it on here and see if they can use one of their fancy technical things to find it.
Over the last few months I've noticed a flattering but probably false trend. During the course of a day quite a few people will either ask me directly or even email me questions. Not necessarily questions that relate to my work but obviously based on a misguided belief that I will be able to answer them. All too often these questions are probably based on whether or not I know someone's phone number or email address but equally there are some obscure general knowledge things thrown in too.
I'd like to claim that I have a vast repository of general knowledge and frightening memory for phone numbers but it wouldn't be true. I think I've built up a bit of a reputation because I can generally give people answers however obscure their question is. I manage to achieve this through the extremely simple process of taking their questions and typing them into Google.
I assume that I am not the only person that has figured out that Google has quite a lot of information contained in it but it obviously could do with some more promotion.
It surprises me the amount of time people take to ask me questions which they could answer for themselves by just following exactly the same process. Particularly when it seems to take much more time to write an email with the question in than just write the same thing in a search engine.
So there it is. I want Google to start a worldwide "Type it into Google" campaign.
There's a chance that some people might suddenly realise that my entire knowledge base is typing related but I'm happy for that to happen for the greater good.
(If you're really arsed you could try Wikipedia as well)
Posted in Misc | Comments (2)
Is that a good enough reason to not write one? Well it probably is but I'll do it anyway.
Twitter executive: "Who can we get to demonstrate that Twitter is an exciting and vibrant platform for engaging with celebrities?"
Twitter employee:  "Philip Schofield?"
Twitter executive:"Who?"
Twitter employee: "He used to be a continuity announcer on Children's TV in the 80's and was friends with a gopher"
Twitter executive: "Please leave." 
Now I'm no celebrity but I'm sure if I were it would raise a question in my mind. If that many people care about Schofield then how many would I get? This seems to have prompted an unseemly surge of celebrities gasping to tell us what they've had for tea.
Twitter has become the currency of celebrity. It is only a matter of time before we someone from Eastenders top themselves because the public have rejected them through Twitter. I think that can only be a good thing.  
The most interesting thing about celebrity usage of Twitter is their inverse relationship with it.  Most people sign up, search out some friends and then wait for someone to notice them. The inverse perspective is to sign up and then get bombarded by requests for information from people you've never met before. This makes the point that when we get the likes of Philip Schofield telling us how great Twitter is, they're really telling us about something that will bear little or no resemblance to our experience.  When it becomes represented in the mainstream as a celebrity stalking tool it loses some of its function  and worth.
Tags: Celebrity, Twitter
Posted in Media, Misc | Comments (2)
If you cut me I bleed darts. Ever since devoting much of 1986 to the Red Lion's dart board I've had a passion for chucking little bits of metal at walls. To be honest I've never really been that good at it but I think I must have a genetic link with the game.
After all, my Dad looks quite a lot like Bobby Bobby Dazzler George and I look quite a lot like my Dad. It doesn't take great deductive reasoning to figure out that one day I too will look like Bobby which means that at last I could be mistaken for a serious athlete.
The fundamental difference between me and Bobby George is that whilst he is the greatest world champion we never had, I have actually won an international darts competition.
I went on holiday a few weeks ago. It was all right. Like any self respecting middle class Englishman I poor scorn on the concept of manufactured entertainment that characterises the package holiday and see it for the contrived jollity it actually is. Well I did until I found out they give you certificates if you win things.
We stayed in a pretty nice hotel, as it turned out, and one of the things provided to keep us happy were daily games and events designed to keep us hanging around the hotel. Having said that I quite fancied the prospect of the KILLER DARTS competition as I hadn' played darts in years.
It was looking a bit dodgy to begin with as I was the only person that bothered to enter. After being patronised by the frighteningly happy entertainment man for a few games I finally got a proper competition. Actually this was a bit of a disappointment as I'd noticed I was easily going to beat the bloke paid by the hotel as he always missed the board if there was any danger of me losing. Ah well.
Donald was clearly a much greater challenge. He hadn't played for years either and neither of us appeared to have much ability to score much more than single figures. That's in fact pretty hard with darts.
I'd have thought that somebody out there must be asking the question, what the hell is KILLER DARTS? A very good question.
The odds that I'll remember all of the rules is remote but I'll give it a go.
Each player has 4 lives
The first player throws three darts and must beat the score of 31. If he/she doesn't then he/she loses a life. The opponent must then beat the previous score set by the original player or also lose a life.
The first player must then beat the score set by the second player with 10 added to it. So if the second player got 45 in the first round then the first player must beat 55. The second player must then beat the score set by the first player or lose a life.
The first player must then get a score of less than that set by the second player (in the previous round) without missing the board. The second player must then get less than this.
The first player must only hit odd numbers. The second player must also only hit odd numbers but get a higher score.
The first player must get three different colours for example white, black and green. The second player must do the same.
If at any point a player loses all of their lives the sudden death round begins. In sudden death each player takes it in turns to get three 20's, three 18's and three 19's. Theoretically someone could get this in three darts by getting trebles in each but it takes a bit longer..in fact much much longer.
Anyone can see that the creation of the last round makes this game complete nonsense to play. Both myself and Donald had great difficulty in figuring out what the hell we were supposed to be doing but the only thing that really matters in all this is that I won.
Winning the KILLER DARTS has to be one of the proudest achievements in my life to date. Obviously something as important as this needed to be marked with a certificate and fortunately the hotel did not let me down.
I was told that all I had to do was go to the bar at 9:15 where they would have gathered most of the hotel residents to clap and generally applaud my dart throwing ability. I was very excited.
By the time my moment of glory arrived I was on my way to the bar thinking about how people were going to hoist me on their shoulders and parade me around. That was until I got to the bar and realised the horrible truth.
I have no idea why anyone thought this would be a good idea but they had decided to organise the certificate giving ceremony at the same time as the reptile show. Why would you even have a reptile show in a hotel? What if they escape and eat people?
I can't stand seeing snakes on the TV so there was no chance that I was going to go in the same room as one. As much as I hate snakes I also really love getting certificates. This created one of the greatest dilemmas I have ever had to contend with. I dealt with this by walking about in a small circle looking a bit mental.
Before they announced my achievement they gave a certificate to some kid called Sam who had apparently won the memory game (I was watching through the doors). This made me really angry. If I'd known there was a memory game I could have probably have won that as well. I can easily remember more than a 7 year old. Mainly because I've seen more things.
As they announced my certificate I decided I had to confront my fear and strode into the bar looking straight forward. I reckon that bit must have looked quite good as the electric doors flew open in front of me. Unfortunately I ruined the affect a bit by walking into a pillar.
I made it onto the stage where they asked me if I was pleased to have won and all I could think to say was I'm scared of snakes.
Sam then tried to show me up by stroking an iguana in front of me. His dad was there so I couldn't punch him.
Posted in Misc | Comments (1)