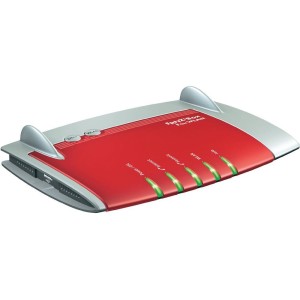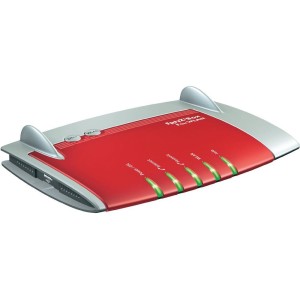 I'm writing this because I've got a Fritz!Box 7390, it's a great modem but it's a painful process to set it up. Every time I come to do it I end up spending ages searching forums and cobbling together a solution. It occurred to me that if I write it down here then I'll know where it is and it might help some one else.
I've recently moved from Sky Broadband to Plusnet, although Sky had been charging me a fortune I was dubious about moving as it had never failed and getting my Fritz!Box to work had been a long and drawn out process. Eventually I was talked into reducing my bills and moving to a slightly less morally dodgy company.
When the bloke turned up to install my Plusnet fibre he ended up screwing a modem to our wall and giving us the flimsiest Plusnet router. I was told that my Fritz!Box 7390 wouldn't work with Plusnet so I'd have to put up with their router. Their router is terrible. It couldn't handle the number of devices in our house  (there are usually about 15 devices connected to the network).
Today I decided to get my old 7390 back as my router and did eventually get it working.
The first thing I hadn't realised is that the 7390 will work very happily as the modem connected to Plusnet Fibre.  Just connect the cable coming from the wall into the 7390 DSL socket.
The IP address to open the control panel is, 169.254.1.1
In the control panel make sure you are in the advanced view and select Internet and then Account Information.
Under Connection select – Connecting to a DSL line
Under Account Information select – Yes, enter  xxxxx@plusdsl.net (with the xxx's replaced by the email address Plusnet allocated you) as your username and your broadband password.
Select change connection settings and select the following:-
Maintain permanently should be set to yes.
VLAN ID should be 101
DSL ATM settings should be selected manually with VPI = 1 and VCI = 32
Finally encapsulation should be selected as PPPoE.
Select apply settings and that should work. Hopefully this will still be here next time I have to do it.
Posted in Misc | Comments (1)
One Response to "Setting up a Fritz!Box 7390"
Richard Says:
January 26th, 2016 at 9:33 am

Brilliant. Was missing the VLAN Id…popped it in and it burst into life. Thanks for taking the time to write this up.
Leave a Reply