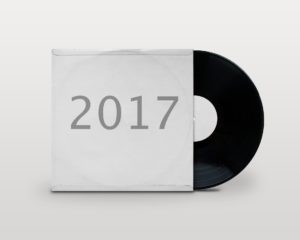 To liven things up a bit this year I've decided to turn up the hyperbole. These aren't the best albums of the year like last year. These are the greatest albums of the year. Bearing in mind this is taken from the stupidly narrow selection of albums that I bought this year.
I've got through about 130 albums this year and I've been tracking them all through my 2017 Spotify playlist. They weren't all great but as per usual, there were a lot of really good albums released this year. I'm obviously going to plug the release of my second album, Embodiment of Privilege. It took a great deal of resistance to not add it to the top ten for 2017. I'm biased.
So here we go in reverse order:-
Dedicated to Bobby Jameson – Ariel Pink I look back on these lists and realise that I tend to include the same bands each year. Ariel Pink's gets on my album lists whenever he releases an album. This would be on my list just for Time to Meet Your God. I've been humming it in a threatening way for months. It's a typical Arial Pink album, lots of strangeness and a nod to 60s psychedelia.
Ressemblage – Visible Cloaks Spending most of the year making electronic music has meant I've also spent most of the year listening to electronic music. I've no idea where I came across this. It's a great mix of 80s synth sounds done in the sort of way that reminds me of the early 90s stoner stuff. That weirdly still works over 20 years later. Listening to it you can easily imagine the terrible computer graphics that we all thought were amazing in 1994. If you look up any Visible cloaks videos on Youtube you'll see they have those terrible graphics.
Hang – Foxygen For some reason I'd thought Foxygen had split up and were lost to the world. It appears not. This is exactly the album you'd expect them to release. A chaotic mix of styles that shouldn't work but does. It's a short album, at 32 minutes. Give it a go.
Luciferian Towers – Godspeed! You Black Emperor I wasn't expecting a Godspeed! You Black Emperor album this year so this came as a nice surprise. Honestly, as much as I like them I've been a bit underwhelmed since they started releasing stuff again. This is back to the same standard as Yanqui U.X.O. Which came out 15 years ago. That's ridiculous. Epic instrumentals that wash over you and leaving you like you've been given an important social message but you don't have a clue what it is.
Masseduction – St Vincent St Vincent is still one of the most talented people around. I think she lives in a different world from everyone else. This album appears to have a lot more really personal songs on, or I managed to work out what they're about this time around. Masseduction and Los Ageless are the stand out songs.
Colors – Beck You know those fairly introspective albums Beck's been knocking out for years? This isn't one of those. He teased us with Dreams in 2016 and then took his time producing an album. This is the most unashamedly pop album I've listened to this year. It's like every song on there was specifically designed for radio play. The strange thing about that is how well it works. Beck might be in need of hard cash.
Death Peak – Clark More electronica. It's strange how many albums on this list don't have words. Rather than the retro synth sounds of Visible Cloaks this a much more contemporary mix of strange sounds. It's got Warp records written all over it and in some places, it isn't that pleasant to listen to. Which is why I love it.
Murder of the Universe – King Gizzard & the Lizard Wizard They released four albums this year and I'd have been quite happy to take up half my list with all of them. Murder of the Universe is my favourite of the four. A triple album telling three different stories. Three different stories that don't make any sense. I don't care if it makes sense or not. We'd been promised five albums this year but I think I'm going to let the delay in the fifth one go. By far the most productive band in the world at the moment.
Damn – Kendrick Lamar Kendrick Lamar seems to define just about everything I listen to these days. From introducing me to Kamasi Washington to collaborating with Rapsody he seems to be everywhere. Damn throws out a lot of the massive orchestration that was on To Pimp a Butterfly and is a very different album for it. You have to listen to all of it to hear how the start links up with the last track. I like that; I think he'd be upset if I described it as a concept album but it is a concept album.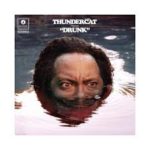 Drunk – Thundercat I knew this was going to be my album of the year the first time I heard it and nothing else that's been released managed to change my mind. It features a ridiculous collaboration with Kenny Loggins and Michael McDonald and a great song about cats. Effortless bass and falsetto singing make this a masterpeice. If you haven't listened to it then go and listen to it now. Then listen to it again.
These are my greatest albums of 2017.
So what did I miss?
Posted in Music | Comments (0)
Leave a Reply