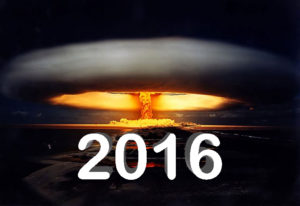 Well that was a year wasn't it? A proper shit show as far as small minded politics and the fragile mortality of light entertainers goes. But a good year for albums, a very good year for albums. I've bought 125 albums that were released this year, more than any year I can remember. I've kept a track of the ones available via Spotify on my 2016 playlist, it's a nice eight and a half hour trip through 2016.
Besides the albums this year's been a personal musical odyssey through playing the ukulele at proper gigs and festivals with Moselele, to playing the banjo in public with We Ain't from Alabama and releasing an album of my own stuff. My album didn't make it into my top ten.
I managed to fairly easily filter 125 albums down to a top ten. So here you go, my favourite albums of 2016 in reverse order (Including links where available).
10) The Lemon Twigs – Do Hollywood – It's difficult to write anything about The Lemon Twigs without having to mention how young they are or that they sound like a cross between The Beach Boys and The Beatles. It's a shame, neither of these things really make a difference to how good this album is. I'd say this album owes more to Foxygen than many of the bands from the 70s that spring to mind. The Foxygen link isn't such a leap as the album is produced by Jonathan Rado. One day The Lemon Twigs will have their quirkiness produced out of them and they'll become a massive band for it, listen to this now while you can.
09) Ty Segall – Emotional Mugger – There's no Spotify link to this album, Ty Segall seems to specialise in making his albums really hard to buy. You can probably find it on iTunes if you do that sort of thing. I've grown to love Ty Segall, his first few albums came across as a shambolic version of Hawkwind when they were a bit folky. That's fine but I couldn't be bothered to listen to them. This album has followed on from Manipulator, sounding very much like Marc Bolan. An angry Marc Bolan who hasn't got time for songs about wizards and swans. I've seen this album described as "garage punk" and it does have a feel of something that they only had a day to make it and weren't too bothered about how clean it sounds.
08) Black Peaches –  Get Down You Dirty Rascals – Black Peaches were formed by Rob Smoughton, the drummer from Hot Chip and Scritti Politti. I mention that because it makes it all the more surprising that this is a guitar album all the way through. Epic guitar solos over swirling electronic pianos and no fear of a seven minute song. There is a hint of the Allman Brothers in there. This is something that came up through Spotify's Discover Weekly, thanks Spotify. Anyway, it sounds nothing like either Hot Chip or Scritti Politti.
07) The  Avalanches – Wildflower – It's an album that everyone waited sixteen years for. Based on the hype I'd decided I wasn't going to like it. I was wrong, it's a great album. Unmistakably The Avalanches and, surprisingly, that still works.
06)  Venetian Snares – Traditional Synthesizer Music – I thought I'd put electronic music behind me at the turn of the Century. Apparently I haven't. As I've spent a lot of the year mucking about with synthesisers I've noticed I've started listening to more stuff made with synthesisers. I'm probably looking for stuff to steal. This is Venetian Snares' twenty third album and the first one I've listened to. Crazy time signatures and improvised analogue synths, this is sometimes hard to listen to I can't stop going back to it. I'd try and nick something like this but every time I listen to it I've not got a clue what is going on.
05)  Anna Meredith – Varmints – Anna Meredith is apparently the composer in residence for the Scottish Symphony Orchestra and this album won the Scottish Album of the year award for 2016 (thanks Wikipedia). I'd go along with that, it's easily the best Scottish album I've heard this year. What is the line between being a classical composer and programming stuff on synths? There's probably a proper answer to that but this sounds like electronica to me. Especially as it uses that bass sound that goes wub wub wub.
04)  The Comet is Coming – Channel the Spirits – This album should have one the Mercury prize this year. It's got everything from Sun Ra, to the Orb, to Fela Kuti in there. It makes no sense that this is just three people. There should be ten of them. I have listened to more jazz this year than ever before (and I used to listen to a lot of jazz). The Comet is Coming seems to be part of a trend to incorporate Afrobeat and electronic stuff together. I like that as a trend.
03)  Childish Gambino – "Awaken, My Love!" – Through out 2016 Donald Glover seems to have always been there doing things. Atlanta was easily the stand out TV series of the year but he still found time to make one of the best albums of the year. If George Clinton were dead then this album would be channelling him. As he's not I think it's a safe bet that Donald Glover really likes Parliament/Funkadelic, and so do I. It's not a straight rip off, there are elements of early N.E.R.D in there. It's just a great album and a real surprise having only been released a few weeks ago.
02)  Yussef Kamaal – Black Focus – I know nothing about Yussef Kamaal other than just looking them up. Two blokes from London, apparently, who play piano and programme drums. It's another one where I don't really know if it's jazz or not. I want to say it is but there is so much of it that sounds like dance music. Usually when I have that sort of difficulty (pigeon holing things into genre) I play it someone that doesn't like jazz and they tell me quite firmly that it is jazz. As I've been writing these I've noticed that I've stopped listening to things with words in.
01)  King Gizzard and the Lizard Wizard – Nonagon Infinity – So, my album of 2016 is Nonagon Infinity. I knew this from the first time I listened to it. There seems to have been a resurgence of prog rock this year. At least I've bought a lot more of it than I was expecting, though this is the only obvious prog rock album that has stood out. This is basically one really really long song that is utterly relentless. Relentless to the point that if you listen to it on a loop it seamlessly goes from the last song back into the first. You can listen to it forever. This was also my standout gig of the year. When I first listened to this I thought there was no chance this could ever be recreated live, as it turns out it can. It can also be recreated live in a small pub down the road from me. Go and see them if they ever come back to the UK or, at the very least, listen to this album.
That's my top ten albums of 2016.
There was one other album that I would have included but I think deserves to stand on its own. David Bowie's Blackstar was easily one of the best albums of the year. Not just because it was an epitaph to his career, it stood up on it's own as a great album for the few days we got to listen to it before we knew he died. It's not often that someone gets to sum their career up so concisely and it's not often that someone can make an album that sets the theme of many of the albums that I listen to for a year. Blackstar seamlessly incorporated jazz into typical Bowie songs and the crossover of jazz into other music has been the thing of 2016. This is a great thing.
As usual this is the point where I start to find out the hundreds of albums that I've missed this year.
Posted in Music | Comments (0)
Leave a Reply