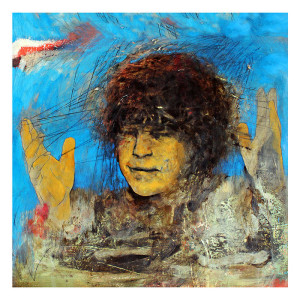 After dabbling with bending the format last year with 12 albums, this year I'm back to the conventional decimal format with 10 albums. It's taken me quite along time to try and figure out what 10 I'd go for this year as I've been making more of an effort to pay attention to everything I've bought. I've been keeping Spotify playlist of everything I've bought (one song from almost every album) just so I've got a record.
Though forgetting I've bought an album surely must be a sign that it wasn't all that good.
It's been another great year for albums, notably with a much more diverse range of music. These ten are only a small section of the things I've spent the year listening to, but these are the best bits.
So in reverse order (including Spotify links to albums), because you need an element of suspense.
10) Grimes – Art Angels – I didn't really get Grimes first album, I liked listening to it but it wasn't something that I went back to more than seven or eight times. I'd also heard that this new album was less accessible than the first. I really don't understand that description. This is a great pop album, really nice accessible pop. Featuring Janelle Monáe it was always likely to win me over and it did. This is probably the most "pop" album I've loved this year.
09) BC Camplight – How To Die In The North – This was one of the first albums I bought in 2015 and I think I spent most of the year thinking "It's all right". But it really grew on me. I was looking forward to seeing him play at the Hare and Hounds in February but because of our stupid immigration laws he wasn't allowed into the country. I'm not sure I ever got a refund for tickets. Oh well. There are some classic songs on here that you'll hum forever.
08) Deafheaven – New Bermuda – I'd never heard of Deafheaven before this year, I'm still not really sure who they are. If you love ridiculously well made 10 minute black metal songs (I'm not even sure this is a real thing) then you'll love this.  This is probably some sort of concept album, I've no idea, I can't understand a word he sings, but don't underestimate how epic this sounds.
07) Kendrick Lamar – To Pimp a Butterfly – One of the main things I can't explain about this album is why I've only made it number seven. Every time I listen to it I'm surprised quite how good it is. It's actually a bit draining getting all the way through it. Kendrick Lamar is 28, I can't really fathom how good his albums are going to be in the future.
06) Leon Bridges – Coming Home – I love Leon Bridges story. After being heard by Austin Jenkins, from White Denim, they helped him make an album. And it's a great album. He sounds like all of the classic 60s soul singers all rolled into one, but still sort of unique. It doesn't sound like an album from 2015 but there is a freshness that means it doesn't sound like the 60s either.
05) Holy Holy – When the Storms Would Come – I heard You Cannot Call for Love Like a Dog early in the year and instantly bought an advanced copy of their album. It's everything I thought it was going to be. Clashing guitar solos and well made songs. It's got a bit of Midlake about it and that's no bad thing.
04) John Grant – Grey Tickles, Black Pressure – John Grant just keeps making albums that get better each time. Nobody else makes songs that are this melodic yet make you laugh. It's not a weird comedy thing, it's a real album. Definitely a step up from Pale Green Ghosts and that's one of my favourite albums ever.
03) East India Youth – Culture of Volume – East India Youth's first album was good, I still listen to it every now and then, but I don't think I ever seriously considered putting it on my 2013 list. This album is amazing. I sort of knew that this was one bloke making it up as he goes along but it was only when he was on the BBC Glastonbury coverage that I realised he could make really intricate songs happen all by himself. There are quite a few of my favourite songs of the year are on this album. I genuinely think that there isn't anyone that won't love this.
02) Kamasi Washington – The Epic – One of the things that fell out of Kendrick Lamar's album was discovering Kamasi Washington, who had done much of the musical arrangement for To Pimp A Butterfly. I'm not sure how true it is that record companies suddenly became interested in him and then he "remembered" that he had The Epic sitting around ready to release. I doubt anyone forgets they have a triple album of jazz on a par with Giant Steps sitting about unreleased. I don't think the John Coltrane analogy is over the top, this is the most amazing jazz album I've heard in years. Certainly the most amazing jazz album that I've heard that's been released in my lifetime.
01) Bop English – Constant Bop – The first time I heard this I knew it was going to be my album of the year. Ten months later and it still is my album of the year. It's another spin off from White Denim. I suppose that the fact my top ten albums have two White Denim linked albums in it shows how much I really want another White Denim album. This album has a little bit more psychedelia in it than I had expected but it works. I was also lucky enough to see them playing in my local pub, making my best gig of the year and my best album of the year nicely linked.
So that's 2015. Another amazing year for albums.
Posted in Music | Comments (0)
Leave a Reply