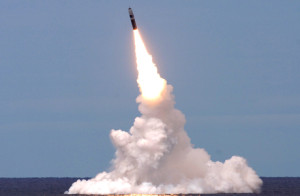 Over the next few months there will be a lot of hysteria about renewing the Trident nuclear weapons system. One of the things that most annoys me about this hysteria is that people seem to be obsessed that Trident sums up all nuclear weapons and a vote to not renew Trident means unilateral disarmament.
Before this debate gets going it would be really useful if people could take a bit of time to think about what Trident is and what it does.  That's what I've been doing, looking things up on the internet. I found these things out on the internet, off Wikipedia. Are these things you knew?
Trident is designed as a system to simultaneously destroy ten cities at once. Using one missile that disperses a number of warheads. The idea being if a country launches an attack against the UK we can then take out most of their major cities in one go. It's not designed to launch one single warhead but it is possible to equip it with less. It's actually quite difficult to use it to destroy anything less than a country.
The Trident system allows a full complement of 192 warheads to be fully operational. Because of nuclear non-proliferation treaties we restrict this to 40 warheads. In the future we will restrict this even further to 25 warheads. There is no point where we will ever be able to equip the system to the full extent of its capability.
We lease the missiles from the US, we make the warheads but not the missiles. The entire programme to renew Trident isn't about missiles, it's about the submarines they live in. We will never own the Trident system.
Trident came into operation in 1994. The first time we were fully defended by Trident was 1998, eight years after the cold war finished. We're now talking about replacing it.
The US also uses Trident but they're not considering the same renewal programme. They're considering spending less money to extend the life of their submarines rather than building new ones.
Unlike the US, the UK Trident allows the captains of nuclear submarines to launch missiles if they believe the UK has been destroyed. Weirdly this can happen if Radio 4 stops broadcasting. The US system requires full authorisation from the US, they brought in added security to stop rogue commanders. The UK decided not to bother.
Trident is a very good system if you're considering fighting a continental nuclear war but it doesn't reflect the world we live in on any level. I don't like to advocate for a nuclear weapons system that would be easier to use, I'd rather we did unilaterally disarm, but we should consider alternatives.
There are alternatives to the Trident system. We can attach warheads to cruise missiles, it would take us a while to get that working, but we could do it.
The debate about Trident is not a debate about having or not having nuclear weapons. It's about building some very expensive submarines. That does have an impact on jobs, but that should be part of the debate and not a simplistic argument on whether the country will be defended or not.
We need to have a proper debate about what the strategic threats are likely to be in 20 years time. We should have a proper debate about how we think nuclear weapons could be used and if we as a country are comfortable about that. We need to have a debate about whether we are working with the rest of the world to disarm.
We shouldn't blindly carry on fighting the cold war just because nobody can be bothered to find out what it is we're paying for.
Posted in Politics | Comments (4)
4 Responses to "Do You Know How Trident Works?"
Leave a Reply