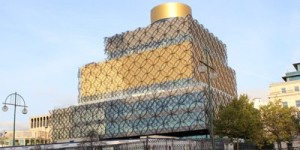 Birmingham is obsessed with shiny things. It doesn't just like them, it's utterly obsessed with them. When it comes to civic planning it appears that cost and utilitarian value are absolutely the last consideration behind how shiny something looks. I mean that literally, all civic developments have their quality assessed by how much reflective metal they have.
I decided to write this after seeing Midlands Today's story about the Birmingham Library service not buying books anymore. It seems that this might not be quite the stark dystopian policy that it appears; more a call out from a community library for donations rather than municipal book begging.
Since the library opened it has been dogged by being an obvious vanity project that we can't afford. I think that much of the furore about opening hours is a political administration trying to score points about central Government funding but I think it also highlights that this thing should never have been built.
So here is my potted history of why it was a stupid idea.
At the turn of the millennium there was a plan. A plan to build a library to replace the brutalist central library. This library, designed by Richard Rogers, was intended to be the catalyst for redevelopment for the Eastside of central Birmingham, creating a learning and technology zone, or hub, or something. There is a fair question about whether this was ever affordable, Birmingham knew it was bankrupt due to systemic gender discrimination, but in those days we didn't talk about that.
It seemed a good idea. Build something and try and prompt some sort follow on development in an area that needed it. Many people dispute the theory that these big investments do create further development, but it was better than what we ended up with.
In 2004 a new political administration swept to power on the back of promising to build an underground railway in Birmingham. Well it was dissatisfaction with the Labour Party dropping bombs on Muslims more than the underground but we should never forget this was a very real and very crazy plan.
The new administration took a principled decision to rip up any plans that the previous administration had thought up. It didn't matter what they were or how reasonable they were, they were ripped up. That meant no library in an area ripe for development.
Instead our political leaders decided we would have a new library but it would be squeezed into an area that was already over developed. We would also not use the library designed for us (which wouldn't have fitted on the tiny bit of land anyway)  but we'd buy one off the shelf. The library we now have had been touted around the great cities of Europe for ages but nobody really wanted it.  Maybe they thought it was boxy.
Which means we ended up with a library that would have no regenerative effect, that was not designed for our purposes and had been aesthetically rejected by many before us. This cost us £189 million.
And we love it.
The lack of having a 21st Century use other than housing books is ignored. The lack of having enough money to run it is ignored. The puff pieces in The Times make it all worth it.
We also decided to knock down the previous library which had direct cultural relevance to Birmingham. Because we need some more offices.
We're about to do it again.
In September the national media will descend on Birmingham and we'll be filled with righteous pride as people see the shiny new New Street Station.
Here are some questions you will not see asked:-
1) Haven't you just glued some bits of metal to a car park?
2) How much train capacity has this £153m development added to the station?
3) Is white the best colour for a station with diesel trains?
4) Isn't that quite a lot of money for a really big sushi concession?
No, we'll love it and everything will be fine again. We'll forget about the perilous state of the Council because we'll have more shops and they will be very shiny shops.
Every year there is a giant real estate conference in Cannes (The MIPM). Every year Birmingham goes on mass and every year Birmingham is a little bit surprised how pleased everyone is to see us. Many say this is because this is one of the most sought after cities to develop in, many won't acknowledge that it's because we will buy literally anything if it is made out of metal.
In Birmingham we use The Simpsons Monorail episode as a blueprint for urban planning.
I won't even start on the plan for a skyscraper with a built in theme park.
Posted in Birmingham | Comments (0)
Leave a Reply