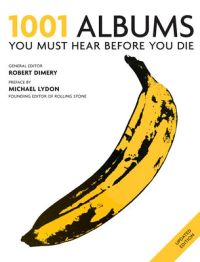 I should make clear that nothing about this advocates on any level that there are any number of albums you should hear before you die. The numerical consumption of popular culture in no way signifies a successfully completed life.
Last year I had a bit of time on my hands and in February I noticed someone I knew had started to work through Robert Dimmery's book 1001 Albums You Must Hear Before You Die. My first thought was that my record collection is epic in range and size so it would be odds on that I'd be more than familiar with every album on the list. A quick scan of the list and I was convinced that I knew virtually all of them. Still I like a good list and sort of enjoyed working through Empire Magazines List of 500 Films. Looking more closely at the list it became obvious that there was a certain amount of confirmation bias in my first reading. It turned out that I owned, or knew well, somewhere between 300 and 400 albums. That persuaded me that I should give it a go and work my own way through them.
Did you know 1001 is really big number? I didn't. 19 months later I'm very aware that 1001 is a very big number.
I decided to listen to each album in order and didn't really bother writing down what I thought of each one. Some days I listened to four or five in a day and it didn't seem fair to inflict abstract  reviews on people. I should explain the title of this post. It seems that over the years as new editions of the book have come out, taking the final year from 2006 to 2012, some albums have been removed to make room for new ones. Over the years 44 albums have been removed. I decided to listen to them as well.
As  I've banged on endlessly about doing this for over a year the one question people have asked me is "what's been your favourite album?". That's really difficult to answer, I know hundreds of the albums on this list really well, I've not come across any new ones that have become my new favourite and many of my favourite albums aren't included. But if one stood out then I'd have to say  Arctic Monkeys  – Whatever People Say, That's What I'm Not. This really surprised me, I've liked this album a lot since it came out but I didn't realise how much I liked it.
Many people have asked me how good the list is and whether it really is or ever can be definitive.  I'd say,  no it isn't and no, nobody could create a definitive one. It's subjective and both suffers and benefits from that. There is a very broad range of stuff in there (I was particularly pleased to see African Jazz so well represented) including obviously populist and deliberately obscure. It does a good job and has given me access to loads of music that I'd never heard of or wilfully refused to listen to (who knew I liked Christina Aguilera? I  didn't). It's also helped validate my smugness. I knew Travis and Coldplay were terrible, now I've sat down and listened to them I know I was right.
More importantly have I learnt anything? The most important thing I've learn't is a proper chronology of music. Seeing how individual bands evolved over time and how bands influenced each other has been really good. Recognising how each year influenced the following year has given me a sense of how much music has just got better. Leaving aside the 50s where popular music was essentially jazz and just brilliant in its own right, every decade has been better than the preceding one. People tend to fixate on their safe decade and mythologise it as a perfect period of music. This isn't true, the 60s weren't as good as the 70s. The  70s weren't as good as the 80s…… you get the idea. Equally the period since 2000 has by far the best selection of albums but is horribly under represented. The people who make the book seem to have got a bit bored at the turn of the century so, for example, 2003 has six albums whereas 1973 has twenty eight. 1973 was an awful year for music. Whenever a new update of the book has come out they seem to have instinctively removed post 2000 albums and replaced them with slightly later post 2000 albums. This has just slanted the whole thing further to older decades. Overall this was the most disappointing thing about putting this much time in.
Other areas where the list seems ridiculously biased is a seeming obsession with Morrissey and the Wu-Tang Clan. Both need to be in there but not everything linked to them. Most of Morrissey's solo albums sound the same and every spin off solo Wu-Tang album is excessive.
Some other things I learned:-
1) If you're making an album and don't get Brian Eno to produce it you're an idiot. Everything he touches turns to gold.
2) Kanye West has had a surprisingly musical influence on hip hop. You can tell anything he's produced because it is musically more challenging
3) Some of the best albums have been removed from the book
4) There isn't any real relationship between how good something is and how many people bought it.
My lasting lesson has been that it probably isn't worth putting in 19 months just to find out that the music that is coming out today is better than the majority of the music from the past. It was fun but an ultimately draining experience.
Posted in Music | Comments (1)
One Response to "1045 Albums You Must Hear Before You Die"
Daz Wright » Blog Archive » Top 12 Albums of 2014 (yes 12) Says:
December 11th, 2014 at 12:38 pm

[…] new music this year so you be reassured this is all quality stuff. After completing listening to 1001 Albums to Listen to Before You Die I really appreciated the opportunity to finally get back to things I wanted to listen […]
Leave a Reply