I have a feeling that my two annual updates to this blog are likely to be my contribution to Harkive and my yearly list of music I like. That's probably enough  for most people to take in. If you've not heard of Harkive it's an annual day where people record what  they've listened to and how they've listened to it.
Last year I took part and posted this little snapshot of my listening habits, I had thought about just using the hash tag (#harkive) on Twitter but thought people might not be enthralled with a stream of my listening habits so here's to long form narrative.  This year is set to be wholly more exciting (actually surprisingly similar) to last year.
It was my first day back at work yesterday so that meant emails. I work from home these days so there is no limit to what I can listen to nor how loud it can be.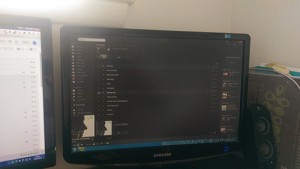 Last year I mentioned that I was working my way through 1001: Albums You Must Hear Before You Die, a year and a week later and I'm still bloody doing it. I have threatened to write about this experience and have a vague plan to do that when I finish, I have no idea when that might be. This week has been an important point with the end of the 90s and the beginning of 2000 (this means the end is in sight). My first bit of listening was via Spotify  and it was Doves  – Lost Souls. Although I have all the 1001 Albums sitting on my server for some reason, while I'm working, I just find it easier to listen to Spotify, it doesn't make much sense but I think I'm just nosey and like to see the stream of things that other people are listening to on the side of the window.
I've always liked Doves but never listened to Lost Souls before, it's good, and will go down on my much smaller list of Albums to Listen to Twice Before I Die.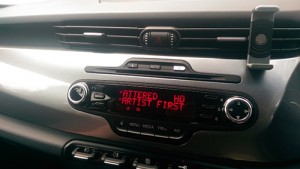 I had to nip out to buy some Mayonnaise and Brie for lunch (Mmmmm, that sounds healthy) and got to listen to First Aid Kit's – Stay Gold in the car. Not entirely intentionally, my car plays music off of a USB stick full of albums (64gb of albums) and to be honest can't deal with it very well. As the car wanted to listen to First Aid Kit I was happy enough to go along with it. It turns out there was going to be a Country theme to the day AND THIS WAS THE FIRST CLUE.
One of the bonuses of working from home is that you don't have to sit in front of a desk all day so I thought I could just as effectively work from our conservatory, it was sunny and I don't play by the rules. Much of the afternoon was a stream of different 1001 Albums starting with Air's The Virgin Suicides. I've always  thought The Virgin Suicides was a  sadly overlooked album. Everyone got excited about Air when Moon Safari came out but excessive listening did make them come across as a weird parody of French music. The Virgin Suicides is an excellent companion to Sofia Coppola's excellent film often a bit depressing but a really coherent set of different songs.
After Air it was onto Ryan Adams' Heartbreaker, whenever I'm faced with the prospect of listening to Ryan Adams I'm disappointed it isn't Bryan Adams. I really don't like Bryan Adams so that gives you a very real hint on how I feel about Ryan Adams. It turns out Heartbreaker wasn't as bad as I was expecting but I will never listen to it again.
On a roll now I fired up Bebel Gilberto's Tanto Tempo, her Dad, João Gilberto had made an appearance some time ago and it was a nice day to pretend to be Brazilian. My only reservation with it was it desperately wanted to slip into the Girl From Ipanema at every opportunity.
MJ Cole's Sincere turned out to be an album too far. I can't remember anything about it other than it being late 90s dance music. I managed to avoid it the first time around and will never listen to it again.
Often Tuesday's mean that our little Blue Grass band gets together to rehearse. This is my once a month opportunity to learn how to play the banjo. Unfortunately I seem to have a developed a reputation for not knowing any of the songs we play nor ever practising. Yesterday I decided to make an effort and practice. I tried listening to  Will The Circle Be Unbroken by the Nitty Gritty Dity Band and Bruce Springsteen's version of Jesse James on Spotify and quickly realised they sound nothing like our versions. I managed to dig out some old practices on Soundcloud and definitely pretended to practice. I also found a YouTube video of a bloke playing Will The Circle Be Unbroken and tried to learn that. It sort of worked.
Before dinner I managed to sneak in a quick Emmy Lou Harris album – Red Dirt Girl, I don't really know Emmy Lou Harris but I did like this (can you see the Country theme?). Another album that I will make the effort to listen to again.
I found a post on Facebook that Table Scraps had made their new single available on Soundcloud, I gave it a listen on my phone, you should too, it only takes ninety seconds.
On the way to our Blue Grass practice my car decided very randomly to play the soundtrack to DJ Hero 2, I think it had got bored of  First Aid Kit.
Much Blue Grass was played but I've no idea how live music fits within the context of Harkive. Also I think there is more than enough to be going on with here. Until next year (or December if you want to know my favourite albums this year).
Posted in Music | Comments (1)
One Response to "#Harkive: My day in music 15th July 2014"
Daz Wright » Blog Archive » #Harkive: My day in music 21st July 2015 Says:
July 22nd, 2015 at 12:02 pm

[…] it's Harkive day, or at least it was yesterday. For those that don't know (how could you have missed last year's thrilling update?), Harkive is a day where people are asked to make a record of the music they listen to and how they […]
Leave a Reply